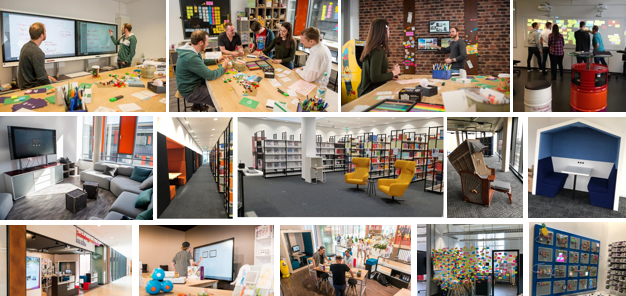 Abstract
The last 2 ½ years have shown that teaching is largely possible digitally. At the same time, students and teachers long for on-site exchange, which often enables more diverse discussions and forms of collaboration. Increasing flexibility and individualization of learning are fostered by digital media and mobile devices. To ensure that the community feeling, synchronicity of learning activities and intensive discussions are not lost in the process, new concepts for the design of spaces on campus, off campus and in the virtual are necessary.
The perspective of hybrid space broadens the view of digital media use by rethinking the linkage of physical and digital places. Ideally, hybrid learning spaces dissolve dichotomies such as online and offline, physical and digital, on-campus and off-campus, formal and informal, academic and non-academic, individual and collaborative learning by combining different spatial concepts. This results in new potentials for educational processes, but also new requirements.
Hybrid learning spaces are designed to enable "seamless learning" and resolve disconnects. Students can decide independently how and where they learn. They can learn alone, in a group, or even as part of a research community, and they can exchange ideas and collaborate with external people or companies. They can also use different devices or platforms, work online or offline, at home or on the train. Furthermore, hybrid learning spaces can support new teaching concepts and the acquisition of key skills such as design thinking.
In addition to the numerous opportunities, this workshop also addresses the practical challenges involved in transforming the traditional campus. Change management
Date
May 25, 2022
11am- 1:30pm (PDT) /  8-10:30pm (CET)
Format
Presentation: Introduction and presentation of examples (20 minutes)
Sharing: Participants share their own good practices (40 minutes)
Mining: We identify key patterns and describe their benefits and challenges (40 minutes)
Wrap-up: Presentation of the pattern drafts (20 minutes)
Open Space: Informal discussion after the workshop (30 minutes)
Organizer's bio
Prof. Dr. Christian Kohls, Dean of Faculty for Computer Science and Engineering bei TH Köln
Register
https://forms.gle/nScDnbPhk9aFKH2fA

See also
More details about this and other PLoPourri activities during PLoP 2022 can be found here.